HK concrete balconies.
---
HK balconies are high-quality systems that are subject to strict internal and external quality criteria. The balconies are placed in front of the building as independent components and are therefore ideal for both new and existing buildings.
Reinforced concrete floor.
The floor plates of reinforced concrete correspond to a strength of C35/45, XC4, according to DIN 1048. Due to manufacturing in a special casting, the tread and surface of the concrete is very clean and even. An additional coating is not necessary. The precast concrete units are prefabricated with a circumferential upstand. The base layer is slightly structured and painted in white.
HK concrete balconies are characterised by the selection of high-quality materials. All components consist either of robust synthetic materials or of long-lasting stainless steel.
You can choose between various systems.
---
Precast-concrete elements combined with four or two square tube supports

Reinforced concrete loggias with concrete shaft walls for the high-rise construction (F 90)

Precast-concrete elements with a combination of shaft wall and supports

Precast-concrete elements suspended on a tension rod system or counter weights

Customised solutions for individual construction requests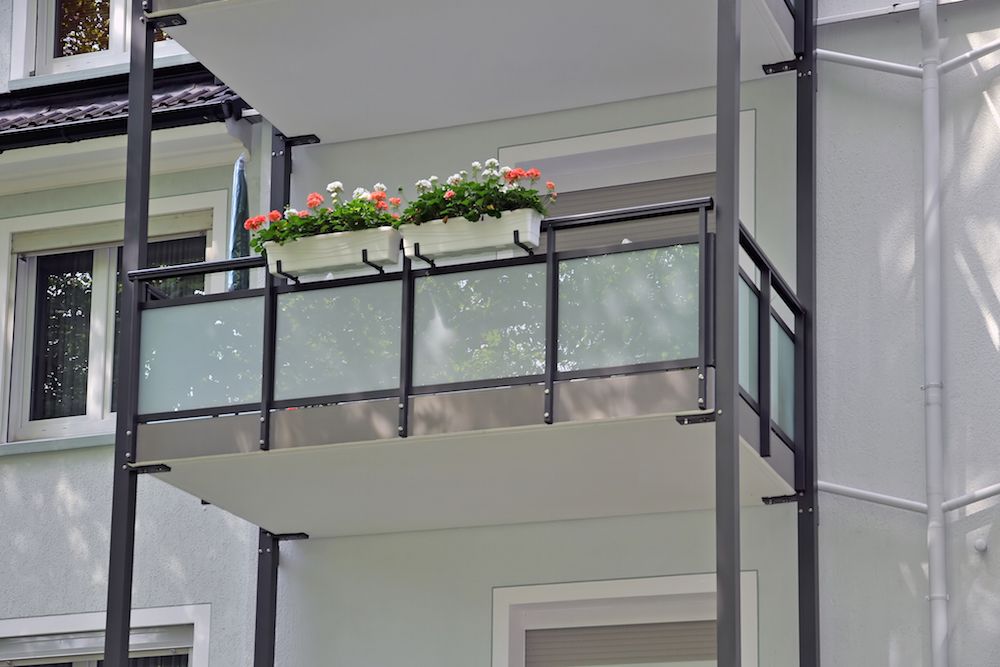 Yours choice of an HK balcony is always the choice for a top-quality product that meets the following criteria:
Optimal corrosion prevention
All steel components are galvanised after production. All connection and mounting components are made of stainless steel or synthetic material.

Quality-monitored concrete
AAll concrete components of the steel/reinforced concrete balcony are produced at minimum concrete quality (C35/45, XC4, XF1 to DIN 1048) in a quality-monitored precast factory

Controlled drainage
A slight slope of the tread ensures the drainage of water to a trapezium-shaped outlet. The incorporated outlet is equipped with a stainless-steel sieve and connected to the powder-coated (RAL 9006) aluminium downpipes on the outer edge of the balcony.

Powder protection or anodic oxidation
A high-quality powder coating of aluminium and steel components protects against mechanical damage and corrosion due to weather conditions.

Prevention of façade damage
HHK systems take the expansion in length of the support columns into account. No worries, we take care of everything and provide all services from a single source including demolition work, foundation, construction site screens and roof.
HK balconies are available in a wide variety of shapes: Square, rectangular, with bevelled edges, semi-circular - anything is possible.
---
We will realise your individual requests that emphasise your property.
HK Balkonbau offers a wide range of variations in form, colour and material. A high-quality aluminium railing – available in all RAL-colours, anodising colours, and with various fillings - is also included for free-standing balconies with steel square tube supports.
Wir sind für Sie da und freuen uns auf Ihre Anfrage.